Podcast: Play in new window | Download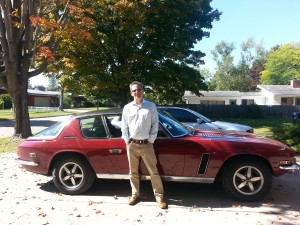 Rob is the Vice President of Content for Hagerty Insurance Company and is the Publisher of Hagerty Classic Cars magazine. Rob is also a regular contributor to the New York Times and Auto Week magazine and has written for Car and Driver, Classic and Sports Car and Sports Car Market magazine. He is the author of the book "Ran When Parked." He currently owns a 1983 Ferrari 308 GTS and a 1973 Jensen Interceptor.
SPONSORS
Want to sponsor the Cars Yeah podcast? Contact us today.
"Slow and steady wins the race. " – Aesop from The Hare and the Tortoise
Rob took his Daimler to a restoration shop for work and then the shop went bankrupt. Listen to find out what happened next.
AH-HA MOMENTS
After being asked to write an article for the New York Times, Rob discovered he had the skill to turn his passion for cars in to a new career.
FIRST SPECIAL AUTOMOBILE
1972 Porsche 911S
BEST AUTOMOTIVE ADVICE 
Never ever drive a sold car.
RESOURCES 
Bring a Trailer – www.bringatrailer.com
Try eBay – Road & Track Annuals
PARTING ADVICE 
Buy what you like. Don't make profit the motivator to your choice of cars.
HOW TO FIND ROB
Hagerty Insurance Company –  www.hagerty.com
Project Portland at Hagerty Classic Cars – www.youtube.com
Ran When Parked – Robb Sass
HELPING CARS YEAH GROW
You can help promote Cars Yeah interviews. Please go to iTunes and post a comment. Every little bit helps and we will greatly appreciate your support.