Podcast: Play in new window | Download

Listen To Rod by Clicking on the Red Arrow Above or Visit iTunes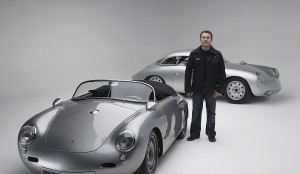 Rod Emory is the owner of Emory Motorsports and a third generation gear head. After years of building and modifying automobiles with his grandfather and his dad, in their McMinnville facility, he launched his own business restoring vintage Porsches. The company grew and he now operates a second facility in Lancaster California. Rod, like his grandfather and his father, takes his craft seriously and not only restores old 356 Porsches but takes them to the next level by creating one of a kind outlaws. Custom builds that go beyond anything Dr. Porsche created. Rod also restores and services vintage Porsche race cars and you'll find iconic models including the 906, 908 and Porsche Cooper in his shop. Rod is a visionary craftsman and coach builder who continues to expand and grow the Emory family spirit.
SPONSORS
Want to sponsor the Cars Yeah podcast? Contact us today.
SUCCESS QUOTE 

"Potential is like a bag of fertilizer. If you don't put it to use, all you're left with is a bag of crap."
BUSINESS CHALLENGE 

When the economy took a downturn and many of Rod's customers cut back on their vintage racing, listen to find out how Rod pivoted to re-think his focus and how he moved forward.
AH-HA MOMENT 

After building his "Emory Special" and receiving accolades for its unique design from the Porsche factory Rod knew he was on his way to defining his touch as a coachbuilder.
FIRST SPECIAL AUTOMOBILE
1953 Porsche 356 Coupe. Listen to an incredible story about this car and how Rod used to to help people who have lost their limbs. It is a heart wrenching story you won't want to miss.
BEST AUTOMOTIVE ADVICE
Make sure you prep your car and that you are always prepared with tools and spares.
FAVORITE RESOURCE

Instagram – instagram.com/rodemory
FAVORITE BOOKS
The Last Eleven – Philip Carney & Jacques Mertens
Better Than Gold – Dietrich Hatlapa
PARTING ADVICE
The best gift you can give your child is to love and support them and to let them follow their dreams.
HOW TO FIND ROD
You will find Rod at www.emorymotorsports.com
Sage Cheshire Aerospace – www.sagecheshire.com
HELPING CARS YEAH GROW
You can help promote Cars Yeah interviews. Please go to iTunes and post a comment. Every little bit helps and we will greatly appreciate your support.