Podcast: Play in new window | Download

Listen to Roger by Clicking on the Red Arrow Above or Visit iTunes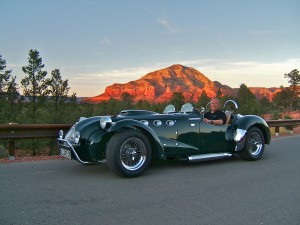 Roger Allard President and CEO of Allard Motor Works in Montreal Canada is part of an automobile company that brings their motoring history forward from the 30s and 40s when the iconic Allard J2X made its mark in motor racing  history.  Founded in 1936 by Sydney Allard the company produced some 1,900 automobiles.  Allards were raced at Le Mans, Monte Carlo, Watkins Glen, Silverstone, Pebble Beach, Goodwood, as well as countless other race tracks throughout Europe and North America.  Today, thanks to Roger and his team, you can own a modern version of this legendary British roadster.  Their motto, "Rarely seen. Never forgotten." Is a testament to the unique and exciting nature of the amazing Allard automobile.
SPONSORS
Want to sponsor the Cars Yeah podcast? Contact us today.
SUCCESS QUOTES 

" You can't be everything to all people."
BUSINESS CHALLENGE 

Listen and found out what happened when Roger's business was faced with a challenge that was sure to close him down.
AH-HA MOMENT 

Find out how a visit to Jay Leno's Big Dog Garage, with one of his cars, provided Roger with some validation that turned this aha moment in to a success.
FIRST SPECIAL AUTOMOBILE
Mazda RX 3
BEST AUTOMOTIVE ADVICE
Don't own what you can't drive.
FAVORITE RESOURCE

Vintage Racing League – www.thevrl.com
Concept CarZ – www.conceptcarz.com
FAVORITE BOOKS

The Last Open Road – Burt Levy
Red Wheels and White Side Walls – Bill Pollack
PARTING ADVICE
Follow your instincts and do what resinates with you.
HOW TO FIND ROGER
You will find Roger at  www.allardj2x.com
Watch Roger in  Jay Leno's Garage
HELPING CARS YEAH GET A BUMP START
You can help promote Cars Yeah interviews. Please go to iTunes and post a comment. Every little bit helps and we will greatly appreciate your support.