Podcast: Play in new window | Download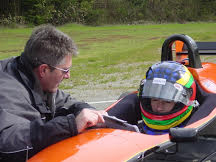 Ross Bentley is a racecar driver, a driving coach and high performance driving instructor. His website Speed Secrets, is a landing page for anyone wanting to learn how to be a better and faster driver. He's raced against Michael Andretti, Al Unser Jr, Bobby Rahal, Emerson Fittipaldi, Paul Tracy, Rick Mears, and many others. Ross has driven Indy cars, GT sports cars, and he won the 1998 U.S. Road Racing Championship and the 2003 Daytona 24-Hour race. He's passionate about helping others perform better in a car and on the track. He's written nine books under the Speed Secrets title and all focus on how to be a better driver. Ross's passion is to share with others what he does best.
SHOW SPONSOR 
NOCO Genius Boost Jump Start  – Here.
"A sure sign of insanity is doing the same thing over and over again and expecting something to change." – Albert Einstein
"When nothing is sure everything is possible."  – Margaret Drabble
Ross had dreamed about racing in the Indy 500 his entire life. He finally got a chance but during a practice session between turns 3 and 4  a methanol fuel line cracked and he was set on fire while going 220+ miles per hour. Listen to this amazing story and how it unfolded.
AH-HA MOMENTS
After chasing sponsorship money for quite some time he was struck on day with the observation that he needed to instead focus on relationships with people.
FIRST SPECIAL CAR
A 1969 Lotus Elan
BEST AUTOMOTIVE ADVICE
Have fun.
FAVORITE RESOURCE
Amazon Books – www.amazon.com
Sports Car 365 – www.sportscar365.com
Racer – www.racer.com
Axis of Oversteer – www.blog.axisofoversteer.com
One Hot Lap – www.onehotlap.com
Winding Road – www.windingroad.com
FAVORITE BOOKS
Mindeset – Dr. Carole Dweck
The Brain That Changes Itself – Norman Doidge
Speed Secrets – Ross Bentley
PARTING ADVICE 
Have fun and there is always more.
HOW TO FIND ROSS
Speed Secrets – www.speedsecrets.com
Speed Secrets Weekly – www.speedsecretsweekly.com
Facebook – www.facebook.com/Drivercoach
HELPING CARS YEAH GROW
You can help promote Cars Yeah interviews. Please go to iTunes and post a comment. Every little bit helps and we will greatly appreciate your support.