Podcast: Play in new window | Download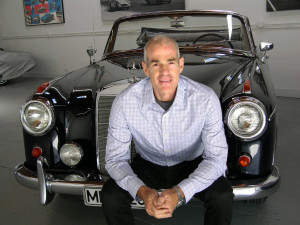 Roy Spencer owns Mercedes Heritage and has created Motorbinder, a beautifully presented photo book that leads the reader through the formative years of road racing in the United States. His creative selection of over 321 pages and 21,000 words along with carefully restored images take you on a journey with the great drivers and cars of the '50s and '60s. With an emphasis on the human side of the sport, the images surprise and impress and weave a story of drivers and marques in a golden age of motor racing. Motorbinder is a must have for every enthusiasts library. Roy also contributes to Autoweek, Cavallino, and the Star magazines. His Classic Mercedes-Benz sales and restorations activities at Mercedes Heritage are well known in the marque's global community.
SHOW SPONSOR
NOCO Genius Boost Jump Start  – Here.
"Treat people in a way that I wish to be treated."
After a career in customer service at dealerships Roy decided the stress was too much and pivoted to car sales. Listen to find out what happened when he was fired from two jobs selling but then found his path toward success.
AH-HA MOMENTS
After success at selling Jaguars, Roy gained the confidence to open his own business where he focuses on Mercedes Benz cars.
FIRST SPECIAL CAR
A 1973 Ferrari 365 GTC4
BEST AUTOMOTIVE ADVICE
Avoid big restorations at all costs.
FAVORITE BOOK
Weekend Heroes – ISBN 9789080119734 (currently out of print)
AUTOMOTIVE RESOURCE
Mercedes Classic Center- www.mbusa.com/mercedes/enthusiast/classic_center
The Revs Institute – www.revsinstitute.org
PARTING ADVICE 
If you have old automotive photos and memorabilia, pull them out and share it with the community.
HOW TO FIND ROY
Motorbinder –  www.motorbinder.com
Mercedes Heritage – www.mercedesheritage.com
HELPING CARS YEAH GROW
You can help promote Cars Yeah interviews. Please go to iTunes and post a comment. Every little bit helps and we will greatly appreciate your support.