Podcast: Play in new window | Download

Listen To Sam by Clicking on the Red Arrow Above or Visit iTunes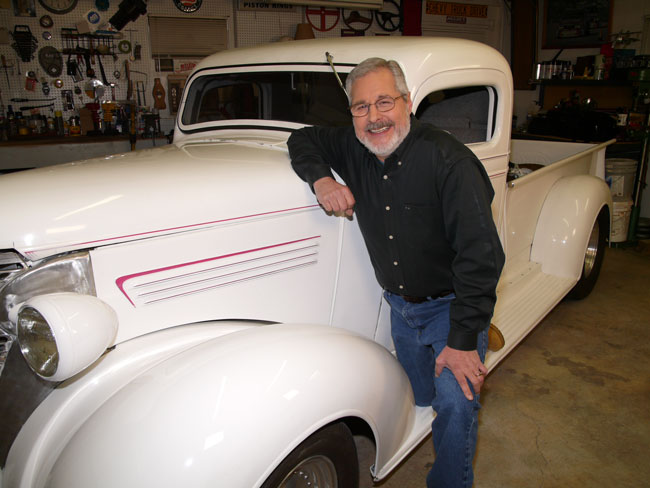 Sam has spent the last 45 + years as an automotive professional and over 25 years of continuous radio broadcasting. The last 20+ years Sam has been an executive producer and co-host on numerous television show and has 18 years as an associate editor and automotive writer. He's been a television personality on numerous automotive TV shows including Two Guys Garage, Chrank & Chrome  and Shadetree Mechanic. As if all that wasn't enough Sam produces the Sam's Garage website, he's the associate editor for Dodge Turbo Diesel Register, the host of Sam's Garage, a live nationally syndicated radio show that's been on the air for over 12 years. Sam co-hosts the TV show Motorhead Garage with Dave Bowman on the Velocity Network.  He's an ASE certified master auto technician and a member of SAE. Whew!
Want to sponsor the Cars Yeah podcast? Contact us today.
SUCCESS QUOTE 

"It doesn't matter what you do , as long as you're the best at it. You're successful if you like what you do." – Unkown
BUSINESS CHALLENGE

After building a very expensive high performance engine it wouldn't start. After much frustration Dave finally figured out what he had done. Listen to find out how he overcame this challenge and better yet how he learned to manage the stress that comes with challenges.
ENTREPRENEURIAL AH-HA MOMENT 

When faced with an option to pay for an expensive piece of machinery or get a free sample from the competition, Sam learned to use his gut when making difficult decisions for a young business.
FIRST CAR

1952 'Stove bolt' Chevy Sedanette
CURRENT BUSINESS

Currently co-hosting Motorhead Garage  produced by Masters Entertainment Group, now seen on Velocity Network. He's the host on the Sam's Garage radio show. Sam also has the website Shadetree Mechanic.com
BEST AUTOMOTIVE ADVICE
You can buy one a lot cheaper than you can build one.
FAVORITE RESOURCE

Dave loves Al's Easy-Run Test Stands. Watch Dave use it on a video at the website. Dave also likes Chris Ryan's work at Ryans Rod & Custom. Also Steve's Auto Restoration.
FAVORITE BOOKS
Toxin  by Robin Cook
PARTING ADVICE
Follow your gut, do what you want to do and don't be too busy with a job to do what you want to do.
HOW TO FIND SAM
You can find Sam with Dave Bowman on the TV show  Motorhead Garage , now seen on the Velocity Network. You can hear Sam on the Sam's Garage radio show. Sam has a Facebook page as well. And you can also find Sam at his website Shadetree Mechanic.com
HELPING CARS YEAH GET A BUMP START
You can help promote Cars Yeah interviews. Please go to iTunes and post a comment. Every little bit helps and we will greatly appreciate your support.