Podcast: Play in new window | Download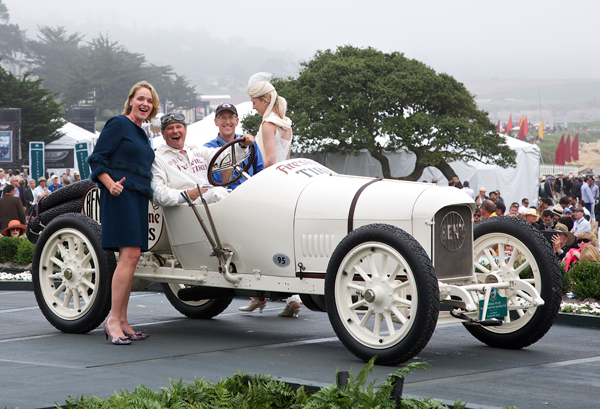 Sandra Button has been the Chairman of the prestigious Pebble Beach Concours d'Elegance since 2002. She was the Executive Director for decades prior and has helped to inspire and guide the growth of the collector car hobby in to a truly global celebration of the automobile. Sandra participates and officiates automotive events from Asia and the Middle East to South America. She and her husband Martin have an eclectic collection of automobiles that they drive in events including the Mille Miglia, the 1000 Millas Sport Argentina, the London to Brighten Veteran Car Run and others. She's a member of the Royal Automobile Club, the Classic Car Club of America and the Motor Press Guild along with the Society of Automotive Historians.
SHOW SPONSOR
NOCO Genius Boost Jump Start  – Here.
"A synonym for concours d'elegance is Pebble Beach." – Alton Walker, Founding Chairman of the Pebble Beach Concours d'Elegance
When Sandra gets ideas to bring certain cars to the event that can be reunited or shown together in a way they have never been, it becomes a financial challenge that requires tapping in to contacts and sponsors for help.
AH-HA MOMENTS
Sandra suggested bringing in sponsors to help support the financial cost of putting on the concours so more money could be raised for their charity. The ah-ha came in assuring the integrity of the event and the experience for the owners remained intact.
FIRST SPECIAL CAR
A 1919 Pierce Arrow Model 48 Duel Valve Roadster
BEST AUTOMOTIVE ADVICE
Buy the best you can afford, what you love. If you buy the wrong thing don't forget the first loss is the cheapest so if you don't like it and it doesn't work, sell it and move on.
AUTOMOTIVE RESOURCE
If you don't know something pick up the phone and call an expert.
FAVORITE BOOK
Anything written by Denise McCluggage  (you can listen to Denise here at Cars Yeah)
PARTING ADVICE 
If you love old cars, no matter what level you can enjoy them, stick with it and stay near them and you might be surprised where it will take you.
HOW TO FIND SANDRA
Pebble Beach Concours d'Elegance – www.pebblebeachconcours.net
Facebook – www.facebook.com/pebblebeachconcours
HELPING CARS YEAH GROW
You can help promote Cars Yeah interviews. Please go to iTunes and post a comment. Every little bit helps and we will greatly appreciate your support.