Podcast: Play in new window | Download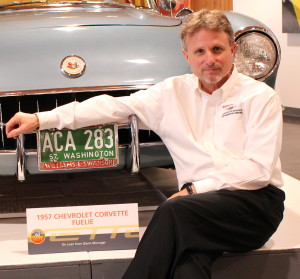 Scot Keller is the Chief Curator at America's Car Museum. He directs the Museum's exhibitory and exhibitions. His career in the automotive industry spans three decades. He's worked at BMW, Callaway engineering, Fiat, Alfa Romeo and Audi in advertising, merchandising, communications, and strategic development. He worked for the Chrysler Corporation in Detroit and for General Motors as well He had direct responsibility for GM's heritage activities and co-founde the GM Heritage Center museum in Detroit.
SHOW SPONSOR
NOCO Genius Boost Jump Start  – Here.
"Without deviation from the norm progress is not possible." – Frank Zappa
"Chance favors prepared mind." – Louis Pasteur
When Scot was responsible for motor sports communications at General Motors, they undertook a grand challenge to integrate telemetry in the race cars at Le Mans. Listen to how a forward thinking idea was hindered by a lack of technology at the time.
AH-HA MOMENT
Scot was involved in the formation of the GM Heritage Center and seeing how important a part of automotive history is in America.
FIRST SPECIAL CAR
An MGB GT
FAVORITE RESOURCES
The Car Connection – www.thecarconnection.com
Automotive News – www.autonews.com
FAVORITE BOOKS
The Arsenal of Democracy – A.J. Baime
Go Like Hell – A.J. Baime
Coachbuilt Press – Michael Furman Books
BEST AUTOMOTIVE ADVICE
That there is a quality and emotional connection within a car
PARTING ADVICE 
Engage withe the automobile. A great way to do this is to visit America's Car Museum.
HOW TO FIND SCOT
America's Car Museum –  www.lemaymuseum.org
Facebook – www.facebook.com/AmericasCarMuseum
Pacific Northwest Concours – www.lemaymuseum.org
HELPING CARS YEAH GROW
You can help promote Cars Yeah interviews. Please go to iTunes and post a comment. Every little bit helps and we will greatly appreciate your support.