Podcast: Play in new window | Download

Listen To Stacy by Clicking on the Red Arrow Above or Visit iTunes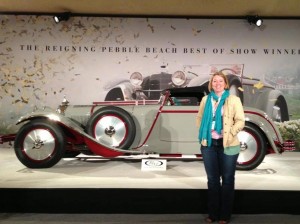 Stacy Pucket is the Specialist Operations Manager at RM Auctions in Ontario, Canada.  As a graduate of the School of the Art Institute in Chicago, she didn't plan on a career in the classic car hobby. But after a lifetime of attending car shows with her parents, it wasn't until she purchased a 1965 Ford Fairlane 500 that the car bug bit her. Instead of grad school she went to the acclaimed McPherson College and received a degree in auto restoration. She trained as an apprentice mechanic with Mercedes-Benz at their Classic Center in Fellbach, Germany. From there she spent time at the LeMay Museum and then five years as a Resource and Research Manager at the acclaimed Paul Russell and Company. There she worked on many different prestigious vehicle restorations including the 1928 Mercedes-Benz 680S Sautchik Torpedo that became the 2012 Pebble Beach Concours Best of Show winner.  Stacy has also been a judge at the Greenwich, Barrington, Misselwood and Radnor Hunt concours. Now at RM Auctions Stacy gets to play with some of the finest motorcars in the world.
SPONSORS
Want to sponsor the Cars Yeah podcast? Contact us today.
SUCCESS QUOTE 

"Life is too short to work in a job, every day, that you don't enjoy." – Stacy's Father
CAREER CHALLENGE 

Stacy was heading off to Germany to be an intern at the Mercedes Benz Classic Center. Listen and learn how she overcame her fear and nerves and how her time there became an incredible experience.
AH-HA MOMENT 
After working for a short time at a prestigious restoration shop Stacy was offered a role very different that what she had originally planned for. Listen and find out how this became her ah-ha moment in a career of her dreams.
FIRST SPECIAL AUTOMOBILE
A 1965 Ford Fairlane 500 named Pearl
BEST AUTOMOTIVE ADVICE
Listen to the car.
FAVORITE RESOURCE
Bring a Trailer – www.bringatrailer.com
Jalopnic – www.jalopnik.com
FAVORITE BOOK
Speed Was My Life – Alfred Neubauer
 PARTING ADVICE
Do what you love and that you have a passion for.
HOW TO FIND STACY
You will find Stacy at www.rmauctions.com
HELPING CARS YEAH GROW
You can help promote Cars Yeah interviews. Please go to iTunes and post a comment. Every little bit helps and we will greatly appreciate your support.