Podcast: Play in new window | Download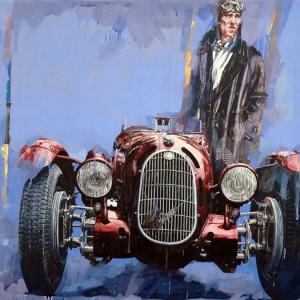 Part Two of a Two-part Interview.
Stanley Rose is an internationally acclaimed artist who has succeeded in attracting the attention and emotion of automotive art collectors from around the globe. He grew up on his family farm in Dorset, a rural county in the South-West of England. According to Stanly, one is born as an artist and at the age of 18 he was accepted at Stourbridge College of Art. His life has taken many turns and roadways however is passion is art and his paintings have been displayed in many shows around the world including Retromobile in Paris, Le Mans, Silverstone, Essen, Monza, and on the lawn at the Pebble Beach Concours where I first experienced his wonderful paintings in person. There he's won the Concours' top accolade, the Peter Helck Award, for his painting Nuvolari.  He's a member of the Automotive Fine Arts Society and painting is his whole life.
SPONSORS
Want to sponsor the Cars Yeah podcast? Contact us today.
"Genius is 90% perspiration and 10% inspiration." 
Stan had a huge commission painting he was working on for a large family who wanted everyone including all their cars in the piece. Listen to hear what a challenge that was to please all the family members with hit important portrait.
AH-HA MOMENTS
Listen to a fun story about a Renault Dauphinoise, a barge, a tractor, and a visit to Retromobile in Paris. Don't miss part two of this two part chat.
FIRST SPECIAL AUTOMOBILE
When living in the UK Stan had every type of Morris Minor that existed.
BEST AUTOMOTIVE ADVICE 
Always check that you have a spare tire and make sure it's okay.
FAVORITE BOOK
Racing Silver Arrows – Chris Nixon
FAVORITE RESOURCES 
Google – www.google.com
PARTING ADVICE
The grass is not greener on the other side. It's greenest right under your feet where you are today.
HOW TO FIND STANLEY
Email –  contact@stanley-rose.com
Stanley-Rose Artist – www.stanley-rose.com
HELPING CARS YEAH GROW
You can help promote Cars Yeah interviews. Please go to iTunes and post a comment. Every little bit helps and we will greatly appreciate your support.