Podcast: Play in new window | Download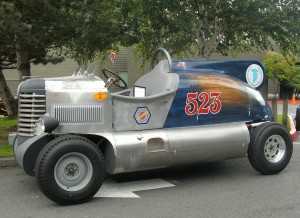 Steve Walker is an artist, and a former Resident Artist for the City of Seattle.  He draws, paints, creates sculptures, illustrates for magazines and children's books and he's done some writing as well.  He also penned a cartoon strip for National Lampoon.   And he builds cars. Very, very unique cars. He's been featured on the TV show Monster Garage and the Vintage Vehicle Show.  The cars Steve builds are not restoration but his own creations using a vocabulary of recognizable shapes inspired by the racing vehicles I admired as a kid in the 50's.   His current studio is called "Close Enough Engineering", where he works with his buddy Kim Hall.  They started out building prototypes and proof-of-concept models for engineering companies and inventors and now they build oversized artworks for casinos, shipping work to Vegas, Detroit, D.C., Austria, Canada, China, and Dubai.  You can see examples of their art at their website:  Closeenoughengineering.com  You won't believe your eyes.
SPONSORS
Want to sponsor the Cars Yeah podcast? Contact us today.
Do what you can, with what you have, where you are.
Steve bought an Alfa Romeo and started taking it apart and rebuilding the engine. He had never done anything like this. Listen to find out how he learned to do it, over and over again.
AH-HA MOMENTS
After the company Steve worked for failed, he found himself without a job and pushing 50 years old. Find out how job hunting lead to Steve opening his own company.
FIRST SPECIAL AUTOMOBILES
A 1958 Alfa Romeo Veloce Spyder
BEST AUTOMOTIVE ADVICE 
When you are trying to fix something on a vehicle. Make a list of all the problems it could be and then arrange them from easiest and cheapest to the most difficult and most expensive. Then start with the easy things first.
FAVORITE RESOURCES 
YouTube for how-to videos
Action Machine in Seattle – www.actionmachine.com
FAVORITE BOOKS
The Old Car Nut Book – David Dickinson
The Old Car Nut Book #2 – David Dickinson
PARTING ADVICE 
Don't wait to get on your dreams. Don't postpone them until retirement. Do them right now.
HOW TO FIND STEVE
You can find Steve at www.closeenoughengineering.com
Facebook – www.facebook.com/pages/Close-Enough-Engineering
HELPING CARS YEAH GROW
You can help promote Cars Yeah interviews. Please go to iTunes and post a comment. Every little bit helps and we will greatly appreciate your support.