Podcast: Play in new window | Download


Listen To Steve by Clicking on the Red Arrow Above or Visit iTunes or Stitcher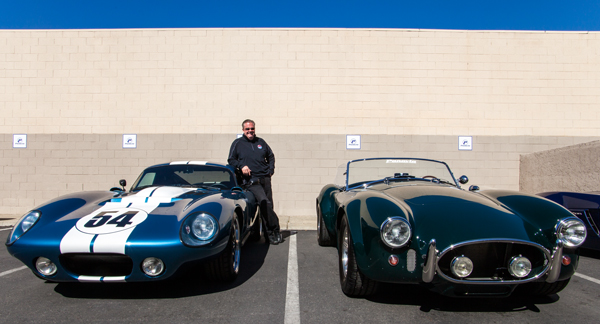 Steve Wood owns Panavia in Cambell California. Panavia is an automotive engineering firm specializing in design, engineering, and building cars of your dreams. They build Cobras, Daytona Coupes, GT40s, Mustangs, Bosses, Tigers, Vipers and Sting Rays plus special builds to suit their customer's wishes. Steve and his talented team also do upgrades on vehicles, high performance modifications, engines, and custom fabrication. His cars have been featured on Jay Leno's Garage and to quote Steve, "We make the American Dream happen!"
SHOW SPONSOR  
NOCO Genius Boost Jump Starter
CarpeGear.com The Little Red Racing Car
"No sleep 'til Brooklyn." -The Beastie Boys

"Ask forgiveness and not permission." – Rear Admiral Grace Hopper
"Nothing substitutes a live fire demo."
Steve didn't get a four year degree from a traditional college, which held him back for a time in his IT work, but he adapted and overcame through self-learning, dedication, and perseverance.
AH-HA MOMENT
It's all about recognizing a thousand ah-ha moments every day.
FIRST SPECIAL CAR
A 1966 Mustang
BEST AUTOMOTIVE ADVICE
"Trust but verify." – Ronald Reagan
AUTOMOTIVE RESOURCE
Club Cobra – www.clubcobra.com
GT40s – www.gt40s.com
FAVORITE BOOK 
Go Like Hell – A.J. Baime
PARTING ADVICE 
No sleep till Brooklyn. Just go do it and get it done.
HOW TO FIND STEVE
Panavia – www.panavia.com
Facebook Panavia – www.facebook.com
Facebook Steve – www.facebook.com/SteveWoodSVO
Twitter – www.twitter.com/stevePANAVIA
HELPING CARS YEAH GROW
You can help promote Cars Yeah interviews. Please go to iTunes and post a comment. Every little bit helps and we will greatly appreciate your support.