Podcast: Play in new window | Download

Listen To Tim by Clicking on the Red Arrow Above or Visit iTunes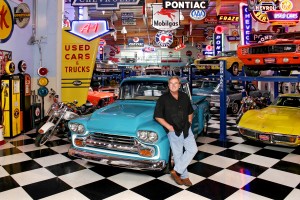 Tim Miller is the Founder and CEO of Surf City Garage in Huntington Beach California.  Surf City Garage is a company that creates superior, high-quality car care products for automotive enthusiasts.  Tim's passion for automobiles goes back to his childhood when he saved up and purchased his first car, a 1967 Pontiac GTO with a 4-speed.  He raced on weekends all over southern California.  Fast-forward 30 years and Tim's car collection is now over 130 show-quality vintage muscle cars, known as the Surf City Garage American Muscle Car Collection.  They are on display in a showroom decorated with neon and memorabilia and includes a complete restoration shop.  In 2007, in order to keep his collection looking great Tim decided to create his own line of surface care products and Surf City Garage Detailing Products was born.  Now sold worldwide, in over 30 countries, the Surf City name has brought the southern California car culture shine to enthusiasts everywhere.
SPONSORS
Want to sponsor the Cars Yeah podcast? Contact us today.
SUCCESS QUOTE 

"Know what you're doing. Love what you're doing. And believe in what you're doing." – Will Rogers
CAREER CHALLENGE 

When Tim started his car care line, he planned on keeping it regional in California. Increasing demand put pressures to rapidly expand. Listen to learn how he grew his car care line to a worldwide brand.
AH-HA MOMENT 
After creating his own line of car care products just for his collection, and sharing it with friends, the requests began to grow. They became so numerous that a light bulb went off and Surf City Garage Car Care was born.
FIRST SPECIAL AUTOMOBILE
A 1967 Pontiac GTO
BEST AUTOMOTIVE ADVICE
"If you are going to make something in the automotive world, you must make sure that it's new, better, and different."  – Ron Coleman
FAVORITE RESOURCE
The world wide web.
FAVORITE BOOK
Eating The Big Fish – Adam Morgan
 PARTING ADVICE
The most important thing a person can have in business and in life is integrity.
HOW TO FIND TIM
You will find Tim at www.surfcitygarage.com
Facebook – www.facebook.com/surfcitygarage
HELPING CARS YEAH GROW
You can help promote Cars Yeah interviews. Please go to iTunes and post a comment. Every little bit helps and we will greatly appreciate your support.