Podcast: Play in new window | Download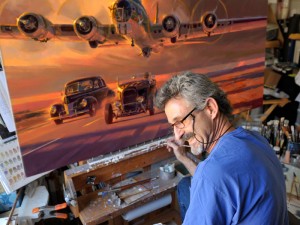 Tom Fritz from Ventura County, California is an artist who's automotive themes represent the Southern California car culture during the 60's and 70's. It is colorful and impressionistic that's beautifully composed and lit with a hint of drama, power, beauty, and action. I think it's simply fantastic. He's a member of the Automotive Fine Arts Society and he's won numerous awards including the prestigious Peter Helck Award seven times, the Art Fitzpatrick Award twice at the Pebble Beach Concours, several Athena Awards and the Lincoln Award of Excellence. His work has appeared on numerous printed pieces, magazines, in museums, corporate offices, concours posters, and private collections. Five of his works were chosen by the U.S. Postal Service for the Muscle Cars Forever stamp series. I simply love Tom's work.
SPONSORS
Want to sponsor the Cars Yeah podcast? Contact us today.
"It's not necessarily the best artists that will survive, it's the ones with the most perseverance."
"Take care of yourself."
Learn how Tom has figured out to live his life by not dwelling on the challenges but instead by always looking ahead.
AH-HA MOMENTS
After discovering chemistry was not his forte, Tom focused on what he knew he was good at doing.
FIRST SPECIAL AUTOMOBILE
1956 GMC Series 100 pickup truck
BEST AUTOMOTIVE ADVICE 
Jack stands. (advice from his father when working on cars)
PARTING ADVICE 
Love your life and love the one you're with.
HOW TO FIND TOM
Tom Fritz Artist –  www.fritzart.com
HELPING CARS YEAH GROW
You can help promote Cars Yeah interviews. Please go to iTunes and post a comment. Every little bit helps and we will greatly appreciate your support.