Podcast: Play in new window | Download

Listen To Tom by Clicking on the Red Arrow Above or Visit iTunes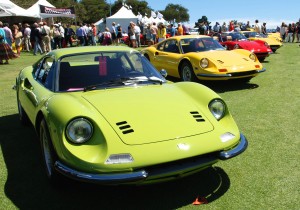 Tom's business background is in finance, film and television production, and investment banking. But an early introduction to something called an Alfa Romeo sparked a passion for cars that later ignited Tom's involvement in an amazing event. Tom is the President of the internationally known Concorso Italiano, an annual automotive event that takes place this year on August 16 during the iconic Pebble Beach Concours d'Elegance and Monterey Historic Races. This year Concorso returns to the rolling hills of Black Horse Golf Course in Monterey Bay California. The unique format features over 800 Italian vehicles in a relaxed atmosphere that includes delicious food, elegant fashion, music, art and of course, lots and lots of Italian automobiles. Take everything ever made in Italy from fashion to Ferraris, sprinkle it with some red wine, slather it with sunshine, top it with elegance and fun and you have the Concorso Italiano. Tom is also president of the Desert Concorso which will debut in Palm Desert California in 2015.
SPONSORS
Want to sponsor the Cars Yeah podcast? Contact us today.
SUCCESS QUOTE 

"Ignore the naysayers." – Tom McDowell
PERSONAL CHALLENGE THAT LEAD TO A NEW BUSINESS

When Tom purchased the Concorso Italiano it had experienced great challenges. There were many telling him to abandon the event but Tom knew the event could shine again. Find out what he did to rebuild the engine in Concorso Italiano and get the engine running smoothly.
ENTREPRENEURIAL AH-HA MOMENT 

After inviting Ferrari designer Leonardo Fioravanti sons to attend Concorso Italiano, they returned the next year with their father. Mr. Fioravanti told Tom "I never believed a celebration could be this much fun. This has been the best experience of my life!" That's when Tom knew the event was on the right track.
FIRST CAR

1964 MGB-GT with no engine and in need of extensive work. Tom's real passion was ignited by his father's Alfa Romeo.
CURRENT BUSINESS

Tom is the president of Concorso Italiano and president of a new event  coming in 2015 Desert Concorso.
BEST AUTOMOTIVE ADVICE
Be passionate about your car and enjoy it.
FAVORITE RESOURCES

Tom's favorite resources are people. Specifically Keith Martin of Sports Car Market Magazine. His friend Donald Osborn, a very knowledgable automotive expert and another automotive expert and friend Michael Lynch.
IF TOM COULD HAVE ONLY ONE COLLECTOR CAR…
Tom loves operating concept cars. His favorite has to be the  Alfa Romeo Pandion.
PARTING ADVICE
If you find something you like try to make a living doing what you are passionate about. Follow your heart and ignore the naysayers.
HOW TO FIND TOM McDOWELL
You can find Tom at the Concorso Italiano website or here  Desert Concorso 
HELPING CARS YEAH GET A BUMP START
You can help promote Cars Yeah interviews. Please go to iTunes and post a comment. Every little bit helps and we will greatly appreciate your support.