Podcast: Play in new window | Download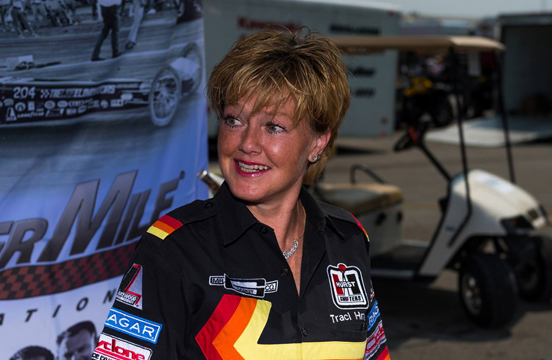 Traci Hrudka's name is synonymous with drag racing and the Mr. Gasket Company that was founded by her father Tom Hrudka and Uncle Joe Hrudka. She's started working in the company in 1982 and after the company was sold in 1997 she moved to Intermec Technologies. Today she operates the Quarter Mile Foundation along with Project 1320. Traci has set out to preserve drag racing's history from the views of its pioneers and legends. Traci epitomizes the term "Life in the fast lane".
SHOW SPONSOR 
NOCO Genius Boost Jump Start  – Here.
Putting together the documentary Traci is currently undertaking is a huge challenge. Listen to what she is planning on bringing to network television.
AH-HA MOMENTS
After attending  the Don Garlits Hall of Fame Banquet and talking with the legends of racing and realizing these legends were aging and passing away, Traci decided to start her foundation so the history could be preserved in the sport of drag racing.
FIRST SPECIAL CAR
A 1985 Trans Am
BEST AUTOMOTIVE ADVICE
Never let your tank get under a quarter full.  If you're going to start to slide, throw your car in to neutral.
FAVORITE BOOK
High Performance – Dr. Robert C. Post
PARTING ADVICE 
Never give up.
HOW TO FIND TRACI
Project 1320 – www.project1320.com
Quarter Mile Foundation – www.project1320.com
Facebook – www.facebook.com/quartermilefoundation
HELPING CARS YEAH GROW
You can help promote Cars Yeah interviews. Please go to iTunes and post a comment. Every little bit helps and we will greatly appreciate your support.