Podcast: Play in new window | Download

Listen To Vincent by Clicking on the Red Arrow Above or Visit iTunes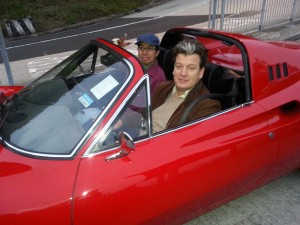 Vincent Metais is the President of Suixtil.  After spending 15 years focusing on the cultural and business operations in the Asia-Pacific marketplace he set out on a new adventure.  Six years ago Vincent re-launched Suixtil, a well-known clothing brand in Argentina during the 40s and 50s that tailored high quality gentlemen's suites and race wear.  Suixtil was worn by the famous Argentinean racers known as the "Armada" team.  The drivers included Fangio, Campos, Gonzalez, and Marimon who all wore Suixtil to victory.  Vincent has brought this brand back to life along with its history and focus on high quality for those who want to enjoy the best that life has to offer.
SUCCESS QUOTES 
"Life is really like a track. There are no short cuts."
PERSONAL CHALLENGE IN HIS CAREER
Listen to find out why relationships saved the business when it faced a major challenge.
AUTOMOTIVE CAREER AH-HA MOMENT 

When some of the greatest legends of racing gave their approval to the revitalized Suixtil brand Vincent knew he was on to something.
FIRST AUTOMOBILE
An old Ford that was on the verge of being a wreck at all times. Find out what Vincent used to pay  with to get his first car.
BEST AUTOMOTIVE ADVICE 
Take it to the limit one more time! – Compliments of The Eagles
FAVORITE RESOURCES

MMR -Motorsport Marketing Resources
PARTING ADVICE
Drive it like you stole it!
HOW TO FIND VINCENT