Podcast: Play in new window | Download

Listen To Warren by Clicking on the Red Arrow Above or Visit iTunes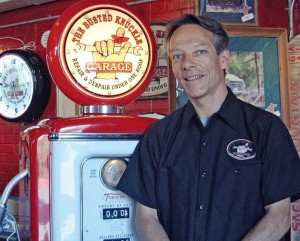 Warren woke up one morning and his wife asked him what he had been doing at 3:00 in the middle of the night. He didn't remember being up. She said he was at his desk writing something. When he looked at the pad he saw a sketch with the words Busted Knuckle Garage and an idea was born. That was 17 years ago. Today the Busted Knuckle brand can be found in all sorts of automotive venues with over 250 different products that you can find at Warren's website, The Busted Knuckle Garage and at many other retail and on line venues. Always a car guy Warren is an entrepreneur at heart.
Want to sponsor the Cars Yeah podcast? Contact us today.
SUCCESS QUOTE 

"Throughout the centuries there were men who took first steps down new roads armed with nothing but their own vision."   -Ayn Rand
PERSONAL CHALLENGE IN BUSINESS

A new customer's orders exceeded all expectations. This brought about very difficult cash flow challenges. Find out how Warren overcame this huge issue.
AUTOMOTIVE CAREER AH-HA MOMENT 

While at an automotive event, two men walked up to Warren's display booth and burst out with this comment. Listen to find out what they said that convinced Warren he had made it.
FIRST CAR

A very rusty MGB.
CURRENT BUSINESS

Warren is the founder and owner of The Busted Knuckle Garage.
BEST AUTOMOTIVE ADVICE
Keep it between the ditches!
FAVORITE RESOURCE

FAVORITE BOOK

The Last Open Road – B.S. Levy
IF WARREN COULD HAVE ONLY ONE COLLECTOR CAR…
A 1961-62 Porsche 356 Notchback
PARTING ADVICE
From the words of a dying cancer patient…"I would have been more generous." Our search mission should be 'how can I be more giving and more generous?'
HOW TO FIND WARREN
You can find Warren at the Busted Knuckle Garage.  You may call him at 928-708-0897 or via email at warren@bustedknuckle.com