Podcast: Play in new window | Download

Listen To Wayne by Clicking on the Red Arrow Above or visit iTunes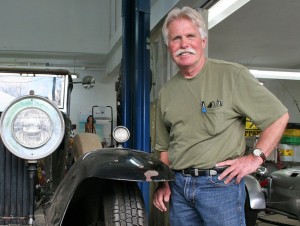 Wayne Carini has a lifetime of experience in automobile restoration and has restored, repaired, bought, and sold more cars than he can count. His television show Chasing Classic Cars, on Velocity, gives the viewer an inside look at his world of buying, restoring, selling and chasing classic cars all over the country and the world. His passion for cars started when he was a child and continues to today at his Connecticut based business F40 Motorsports where they repair, restore, buy, sell, and chase that next special automobiles. I can tell you having met Wayne that who you see on his number one rated television show is the real deal. He's a die-hard car guy who is incredibly nice and really enjoys what he is doing.
SPONSORS
Want to sponsor the Cars Yeah podcast? Contact us today.
SUCCESS QUOTE 

"Just be yourself." – Wayne's Father
PERSONAL CHALLENGE 

Wayne's daughter Kimberly has autism. Listen to why Wayne feels this has been a blessing in his life.
AUTOMOTIVE CAREER AH-HA MOMENT 

After taking on a Ferrari repair project his father didn't want to mess with, Wayne formed a relationship with Luigi Chinetti and his business shifted in to high gear.
FIRST AUTOMOBILE
A 1952 Chevy.
BEST AUTOMOTIVE ADVICE
Don't be afraid to take it up to red line!
FAVORITE RESOURCE

Hagerty Insurance Valuation Tool.
FAVORITE BOOK

Racing Safely Living Dangerously – Bill Simpson
PARTING ADVICE 
How do you know when it is the right time to sell a car? If you don't look back at your car after you park it and walk away, it's time to sell.
HOW TO FIND WAYNE
You can find Wayne at Chasing Classic Cars and  www.F40.com