Podcast: Play in new window | Download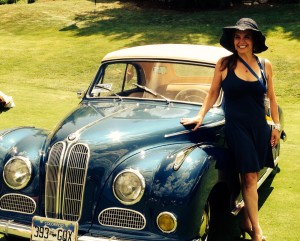 Wendi Martin is the President of Enthusiast Media Group that she founded in 2006. While her company focuses on print media, consulting, promotional material, and more, Wendie's involvement in the automotive world is very extensive. She caters to the top enthusiasts in the automotive industry. Her company works with several concours events including the La Jolla Concours, Carlisle Events, and the Desert Concorso. She belongs to the Driving Diva's, an enthusiastic woman's BMW driving club. She's completed several high-performance driving M Schools and has run tours through South Carolina to Ashland and the Biltmore. And she is the chair for the BMW CCA foundation raising money for BMWs museum and street survival program. Wendie's a car girl through and through.
SHOW SPONSOR
NOCO Genius Boost Jump Start  – Here.
"Eighty percent of everything is just showing up." – Woody Allen
"If you think you're lucky, you're double lucky." – Burt Reynolds
Wendie's approach to facing failures and challenges is "shedding". Listen and learn how this wonderful approach to life has served here well in many challenging situations.
AH-HA MOMENTS
After starting a hobbyist business so she could spend more time with her family and boyfriend started to take off, Wendie realized she had the makings of an entirely new career. Listen to a fun story about combining her avocation for cars in to her vocation.
FIRST SPECIAL CAR
A 1985 Pontiac Fiero
BEST AUTOMOTIVE ADVICE
The market will tell you the car price.
FUN RESOURCES
Motorsports Marketing Resources – www.mmr.com
CHUB Insurance – www.chubb.com
Hagerty Insurance – www.hagerty.com/valuationtools
BOOK SUGGESTION
Keith Martin's Guide to Car Collecting – Keith Martin
PARTING ADVICE
If a collector car is something you've always wanted or you already have and you want another one. I say buy it.
HOW TO FIND WENDIE
Enthusiast Media Group-  www.enthusiastmediagroup.com
Promotional Material – www.emgpromo.com
Telephone – 206-427-1652
HELPING CARS YEAH GROW
You can help promote Cars Yeah interviews. Please go to iTunes and post a comment. Every little bit helps and we will greatly appreciate your support.