Podcast: Play in new window | Download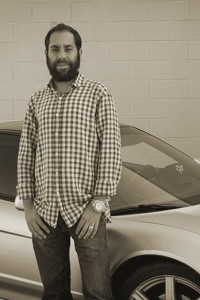 Yoav Gilad is the editor at Petrolicious. He was raised in the Washington DC suburbs where he spent his young adulthood getting speeding tickets, starting car clubs, and getting a degree in economics from University of Maryland. Yoav founded a national non-profit organization dedicated to providing support to people awaiting organ transplants. The allure of endless hours playing with pencils, markers, and clay was too strong and he decided to follow his passion for cars, design, and sketching and moved to Pasadena, CA to attend Art Center College of Design for another Bachelor's degree, this time in transportation design. Yoav has worked in fashion, graphics, products, and transportation design and he's taught in the Art Center for Kids program. He started his own website, 'Keep It Wide Open.com'.  After an epic Porsche road trip, and some help from Hagerty Insurance, Petrolicious hired him as their editor. When he's not writing, editing, or taking photographs he is out driving and still getting speeding tickets.
SPONSOR
NOCO Genius Boost Jump Start  – Here.
"Fortune favors the bold."
Yoav had a very serious medical issue and had a double lung transplant. Listen to what the near death experience taught him about life and pursuing his passion for automobiles.
AH-HA MOMENTS
After getting an economics degree Yoav realized his passion was really in the automotive field so he packed up and went to the west coast and enrolled in The Pasadena Art Center to get a degree in transportation design.
FIRST SPECIAL AUTOMOBILE
Honda S2000
BEST AUTOMOTIVE ADVICE 
Slow down
FAVORITE BOOKS
On The Road – Jack Kerouac
Head Trips Road Trips and Other Car Crazed Writings – Jean Lindamood Jennings
FAVORITE RESOURCES 
Alexander Bermudez Automobilist – www.facebook.com/alexander.bermudez.automobilist
PARTING ADVICE
Take chances because you never know where they will get you. Better to know than to wonder.
HOW TO FIND YOAV
Petrolicious – www.petrolicious.com
Facebook – www.facebook.com/petrolicious
HELPING CARS YEAH GROW
You can help promote Cars Yeah interviews. Please go to iTunes and post a comment. Every little bit helps and we will greatly appreciate your support.