Podcast: Play in new window | Download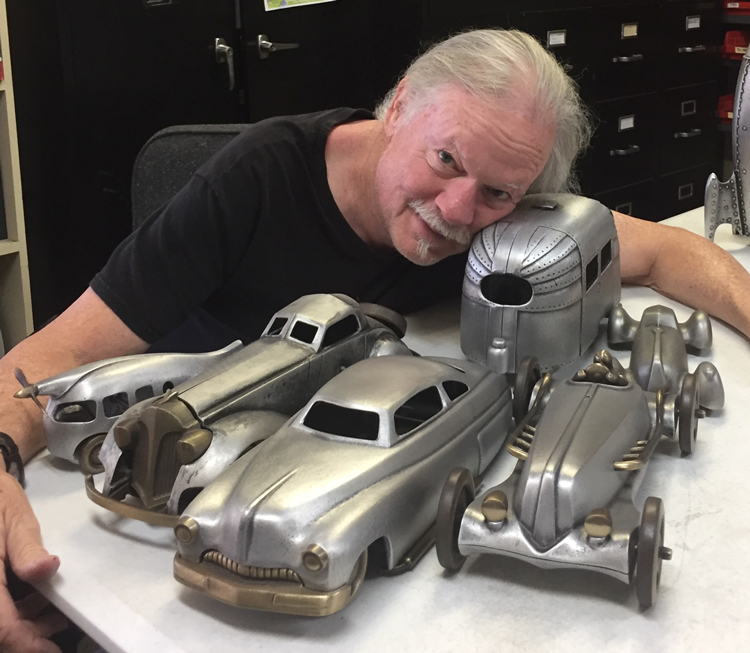 Scott Nelles is an artist who has worked in cast bronze for over three decades. He designs and creates everything from decorative art to toys and his work displays a childlike playfulness, elegant design, and superb control of his medium using the timeless methods of sand casting and hand finishing his work. His foundry and studio are in northern Michigan. Scott pulls his inspired from the natural world and its creatures. His inspiration is also derived from his childhood in Detroit and his automotive, ship, boat, and airplane sculptures combine beauty, strength, and a little or a lot of whimsy. His work has been exhibited worldwide and I'm proud to say I have one of his pieces on display in my home, his Land Speed Racer sculpture.
SHOW SPONSORS
Covercraft • MetronGarage • Christopher Kimball Financial Services
INSPIRATIONAL QUOTE
"Don't give up on your dreams."
CAREER & LIFE CHALLENGES
Trying to make a living as an artist and dealing with the challenges that brings in addition to a divorce.
FIRST SPECIAL VEHICLE
A 1960 Ford T Bird
AUTOMOTIVE ADVICE
Change your oil.
RESOURCES
Great picture books.
BOOK RECOMMENDATION
The Automobile by Craig Cheetham
PARTING WORDS OF ADVICE
If you have a dream you've gotta stick to it.
WHERE TO FIND SCOTT
SHARE THE INSPIRATION
Your opinion matters, and I will greatly appreciate your support.
If you enjoyed this show, please go to Apple Podcast and leave me a five star review. That would help tremendously in getting the word out and help others be inspired by Cars Yeah.