Podcast: Play in new window | Download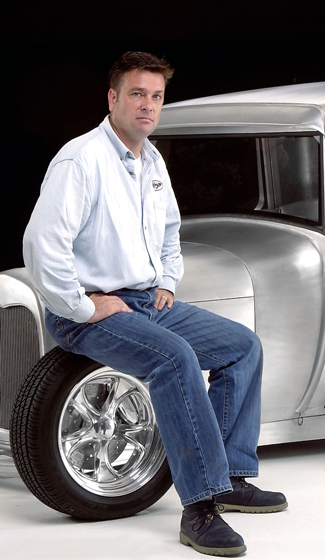 Boyd Coddington Jr. grew up in his father's hot rod shop and wheel factories learning every lug nut and bolt of the companies using the time-tested methods of "hands on / bruised knuckles". He expanded the company's product line helping to grow Boyds Wheels in to the largest custom billet wheel company in the world producing nearly 220,000 wheels annually. After the untimely passing of his father in 2008, Boyd acquired the Boyd Coddington trademarks and brands and started an aftermarket design studio and brand licensing company. In 2014 he founded Boyd Coddington Detail Garage, a high-end line of professional/enthusiast car care products. Carrying on his father's hard work, dedication, and inspiration Boyd continues to grow the Boyd Coddington Companies.
SHOW SPONSORS
Covercraft • MetronGarage • Christopher Kimball Financial Services
INSPIRATIONAL QUOTES
"If you can dream it you can build it." – Boyd Coddington
"Cash is king."
CAREER & LIFE CHALLENGES
The wheel company was growing far too fast and after going public, and then the Japanese market drying up, the company was taken over by another group.
FIRST SPECIAL VEHICLE
A 1956 Chevy
AUTOMOTIVE ADVICE
"Nothing's too good to butcher." – John Buttera
RESOURCES
BOOK RECOMMENDATIONS
The Complete Guide to a Showcase Shine by Mike Phillips*
PARTING WORDS OF ADVICE
Get outside your comfort zone and reach out to those with different interests and backgrounds. And don't be afraid to fail. Most importantly if you can dream it you can build it.
WHERE TO FIND BOYD
Your opinion matters, and I will greatly appreciate your support.
If you enjoyed this show, please go to Apple Podcast and leave me a five star review. That would help tremendously in getting the word out and help others be inspired by Cars Yeah.