Podcast: Play in new window | Download
Listen To Uwe's podcast by Clicking on the button above, or use your mobile podcast App on Apple Podcast, Google Play, Spotify, or Stitcher.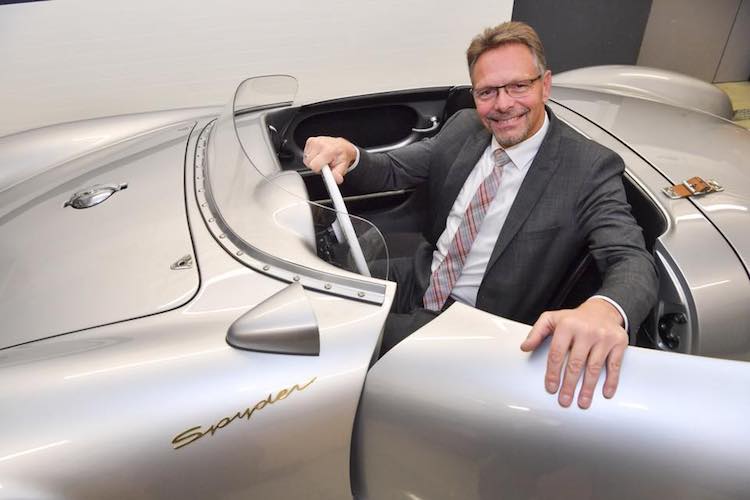 Uwe Makrutzki is the manager of factory restorations at Porsche Classic in Stuttgart, Germany. He has 36 years of experience with Porsche, including 17 years as a technician in a Porsche Center, 13 years as a sales manager at a Porsche Center and he's been a manager of the Porsche Classic since 2014. At the Porsche Classic Center, they repair and perform factory restorations on classic Porsche automobiles using genuine Porsche parts. They have an enormously talented team of craftsmen who meticulously care of classic Porsches, ensuring their heritage and parts match those used in the original builds. Over 70% of Porsche vehicles ever built are still on the road today. Uwe and his team makes sure it stays that way using only quality made in Germany parts, with access to over 52,000 parts from over 1000 classic suppliers.
SHOW SPONSORS
Covercraft • MetronGarage • Christopher Kimball Financial Services
INSPIRATIONAL QUOTE
Everything is hard before it is easy!
Learning is never-ending. If you stop learning, you stop improving yourself.
CAREER & LIFE CHALLENGES
After losing everything to divorce, Uwe threw himself into his work. Now he has reached new dimensions of happiness. Never give up. Life is a valuable gift from God.
FIRST SPECIAL VEHICLE
Volkswagen Beetle 1200
BEST AUTOMOTIVE ADVICE
Treat your car like a friend.
RESOURCES
RECOMMENDED BOOKS
Porsche 911 ST 2.5 by Thomas Imhof
PARTING WORDS OF ADVICE
Life is a gift and it's up to you to shape it. Business goes up and down, and it's up to you to bring it up again and again.
WHERE TO FIND UWE
SHARE THE INSPIRATION
Your opinion matters, and I will greatly appreciate your support.
If you enjoyed this show, please go to Apple Podcast and leave me a five-star review. That would help tremendously in getting the word out and help others be inspired by Cars Yeah.