Podcast: Play in new window | Download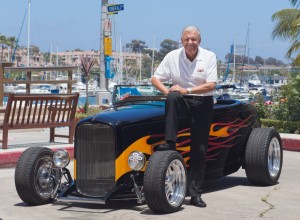 Barry Meguiar represents the third generation of the company his grandfather founded in 1901.  For Barry, working at Meguiar's started when he was in grade school.  Over the years Barry worked in various areas of the business but it was his vision to take their car care products to the consumer marketplace that got things revved up.  In 1973 the first consumer product, Meguiar's Liquid Cleaner Wax was launched.  The rest is history and today the average retailer showcased 40 to 50 separate Meguiar's products on its shelves.  Meguiar's "men in black" can be found at almost every major car show across the country, and around the world, each and every weekend.  Then in the mid 90s Barry created Car Crazy Radio and Television to unite and mobilize car guys everywhere.  Car Crazy TV is now viewed globally via the Internet and broadcast television.
SPONSORS
Want to sponsor the Cars Yeah podcast? Contact us today.
"Trust in the Lord with all your heart, and do not lean on your own understanding.  In all your ways acknowledge him, and He will make straight your paths." – The Bible, Proverbs 3
Listen to an amazing story of how Barry worked to take the Meguiars product to the consumer, despite numerous challenges and even after a huge financial setback, he persevered and the brand became a household name.
AH-HA MOMENTS
After attending numerous car shows and talking with Meguiar's customers, Barry realized what had to be done with the brand. Listen and learn how he pivoted the Meguiar's products and set a course of incredible growth.
FIRST SPECIAL AUTOMOBILE
1957 Chevrolet Bel Air hard top
BEST AUTOMOTIVE ADVICE 
The customer is always right. Go the extra mile. Do everything right. Don't let anybody down. – Larry Green
FAVORITE BOOKS
The Bible
PARTING ADVICE 
Trust in the Lord.
HOW TO FIND BARRY
You can find Barry at www.meguiars.com
HELPING CARS YEAH GROW
You can help promote Cars Yeah interviews. Please go to iTunes and post a comment. Every little bit helps and we will greatly appreciate your support.