Podcast: Play in new window | Download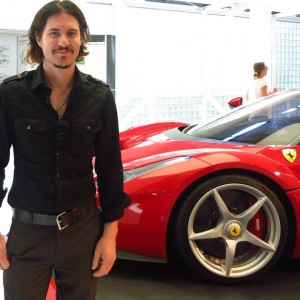 Christensen owns CAFE SpA Ferrari and Lamborghini News (cafespa.com). He is broadcast by Google News with 3-5M readers per week, and currently has over 2M followers on Facebook. Additionally, he hosts one of the largest cars and coffee events in the country, in San Francisco, California. Over 300 exotic and specialty cars attended his last event, including Horacio Pagani's personal Zonda from Italy. Most importantly, he strongly values family. Despite his busy schedule and passion for Italian automobiles, he knows it doesn't take much to have a happy life… just a nice family.
SPONSORS
Want to sponsor the Cars Yeah podcast? Contact us today.
SUCCESS QUOTE
"The most important thing in life is family." 
The business is cars but in the end you have to deal with people. The key is to be social and build a connection.
AH-HA MOMENTS
Listen to a wonderfully inspirational story about Christensen's friend and his adventure to get to the Ferrari Factory and how this ties in with Christensen's ah-ha moment for his business. That anything is possible if you have the passion.
FIRST SPECIAL AUTOMOBILE
A Ferrari 412, one of only 17 in the USA, and it's the last Ferrari Enzo Ferrari drove before he passed away.
BEST ADVICE 
It really comes down to family and putting them first.
FAVORITE BOOKS
Ferrari Research Center – Massimiliano Fuksas
FAVORITE RESOURCES 
Bring a Trailer – www.bringatrailer.com
PARTING ADVICE
If you're ever in North Beach, San Francisco, you're welcome to hang out with Christensen and talk Italian cars.
HOW TO FIND CHRISTENSEN
CAFE SpA – www.cafespa.com
Facebook – www.facebook.com/ferrari.lamborghini.news
HELPING CARS YEAH GROW
You can help promote Cars Yeah interviews. Please go to iTunes and post a comment. Every little bit helps and we will greatly appreciate your support.