Podcast: Play in new window | Download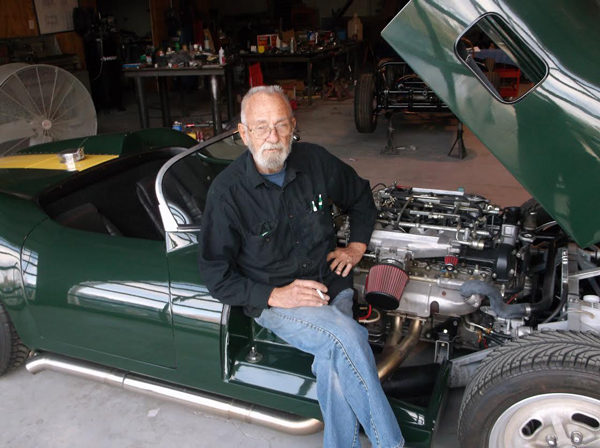 Chuck Beck has built numerous projects from dragsters to race cars to street cars and more. He is renown among automotive enthusiasts for his 550 Spyder, a replica of the iconic Porsche 550 Spyder from the 50s. He started producing the cars in 1982 and built 2,500 of those wonderful cars. In 1990 Chuck jointly developed the Shogun concept car and produced a competitive racecar with his replica of the Lister. In 1998 he developed the Beck 904 prototype, a replica coupe based on the original Porsche Carrera GTS that was launched in 1963. After selling his company Chuck continues to spend most of his time in the shop building cars and more recently a Lamborghini powered motorcycle.
SHOW SPONSOR  
NOCO Genius Boost Jump Starter
"Find something you love to do. Get good at it. Somebody will pay you to do it." – Chuck Beck
Chuck finds that before he starts a project he doesn't ask the questions until he has the answer. Preparation helps avoid challenges before they happen.
AH-HA MOMENTS
While restoring a Porsche 910 one of Chuck's customer had a Porsche 550 Spyder and wanted Chuck to build him a replica 550 Spyder. Chuck thought he would be lucky to sell 50. Now after 2,500 sales the car is still being built and sold today.
FIRST SPECIAL CAR
A Devin with a 302 Chevy engine
BEST AUTOMOTIVE ADVICE 
If you get involved with cars it totally possesses you so be prepared for it to encompass your life.
PARTING ADVICE 
Think through everything you're going to do before you start. Do your homework first.
HOW TO FIND CHUCK
Special Edition – www.beckspeedster.com
Beck 904 – www.beck904.com
Facebook – www.facebook.com
HELPING CARS YEAH GROW
You can help promote Cars Yeah interviews. Please go to iTunes and post a comment. Every little bit helps and we will greatly appreciate your support.