Podcast: Play in new window | Download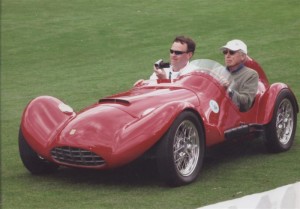 Cliff Reuter has created the website Etceterini.com. Etceterini is a result of a passion for automobiles that he shares with his father Jack who has enjoyed an amazing life around European racing cars. Over the years the Reuters have owned numerous interesting and iconic cars including Porsches, Ferraris, Maseratis, Bandinis, Bugattis and many more. Cliff has created a dedication to the history, documentation, and preservation of Etceterini cars. What is an Etceterini car? Cliff will explain the answer to this and he will share more of his families rich automotive history today on Cars Yeah.
 SHOW SPONSOR
NOCO Genius Boost Jump Start  – Here.
"The more I practice the luckier I get." – Gary Player
Cliff's goal was to be a professional tennis player. He moved up in the ranks however never quite made it to a professional level. Listen and learn how his tennis experiences lead to a career, to finding his wife, and much, much more.
AH-HA MOMENTS
After playing around with an enthusiasts website for Etceterini cars Cliff was contacted by Dino Bandini which started a chain of events.
FIRST SPECIAL CAR
A 1976 VW Beetle
BEST AUTOMOTIVE ADVICE
Go with what you love.
FUN RESOURCES
Sports Car Digest – www.sportscardigest.com
Veloce Today – www.velocetoday.com
RM Auctions – www.rmauctions.com
BOOK SUGGESTION
The Count of Monte Cristo – Alexandre Dumas
PARTING ADVICE
If you have something you are interested in, pursue it.
HOW TO FIND CLIFF
Ectecrini –  www.cliffreuter.com/etceterinihomepage
Facebook – www.facebook.com/Etceterini
HELPING CARS YEAH GROW
You can help promote Cars Yeah interviews. Please go to iTunes and post a comment. Every little bit helps and we will greatly appreciate your support.