Podcast: Play in new window | Download

Listen to Frank by Clicking on the Red Arrow Above or Visit iTunes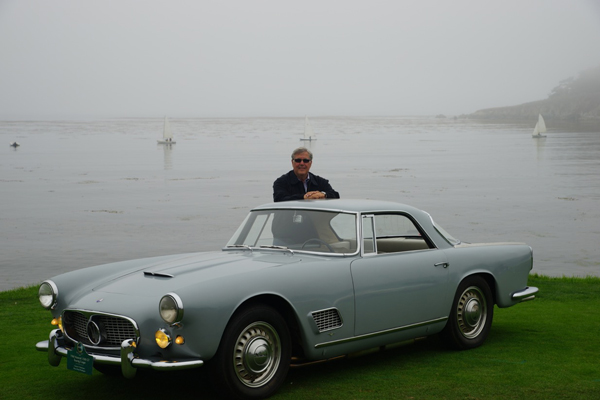 Frank Mandarano has been a car guy since he was 12 years old.  He's a decorated Veteran and a licensed commercial pilot.  He is the founder of Maserati Club International and MIE Corporation.  Frank also founded the Concorso Italiano, an annual Italian marque gathering in Monterey California.  Frank started the original, one and only, Car Guy Tour and still operates dream-come-true trips for automotive enthusiasts from around the world.  You can find Frank visiting automotive factories, museums, wineries and more or catch him cruising down the road in one of his  Maserati 3500 GTs.
SPONSORS
Want to sponsor the Cars Yeah podcast? Contact us today.
SUCCESS QUOTE 

"You've got to have passion but passion is not enough. The main ingredient you need is tenacity."
BUSINESS CHALLENGES 

After returning from a trip to Italy, Frank's main real estate investment, a hotel, had been repossessed.  His business was in ruins. Find out how Frank overcame this disaster and moved forward.
AH-HA MOMENT 

This goes back a ways but one day when Frank heard on the radio that you could take credit cards over the phone, his parts business took off. Technology made it easier to sell.  A familiar story even today. Listen to learn how buying out Maserati Automobiles was his next ah-ha moment…
FIRST SPECIAL AUTOMOBILE
1947 Ford Convertible
BEST AUTOMOTIVE ADVICE
Change oil often.
FAVORITE RESOURCES

Ferrari Chat- www.ferrarichat.com/forum/
Maserati Chat – www.sportsmaserati.com
Hemmings Motor News – www.hemmings.com
Veloce Today – www.velocetoday.com
FAVORITE BOOKS

Managing for Results – Peter Drucker
Go Like Hell – A.J. Baime
PARTING ADVICE
Buy real estate as young and quick as you can.
HOW TO FIND FRANK
You will find Frank at  www.carguytour.com 
Or simply call Frank at 206-310-8380
Discover Frank's delicious Italian Balsamic Glaze and sauce at www.balsamicsauce.com
HELPING CARS YEAH GET A BUMP START
You can help promote Cars Yeah interviews. Please go to iTunes and post a comment. Every little bit helps and we will greatly appreciate your support.