Podcast: Play in new window | Download

Listen To Henry by Clicking on the Red Arrow Above or Visit iTunes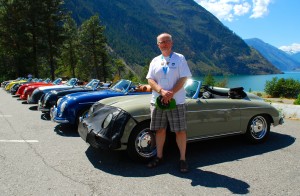 Henry Reisner is the president of Intermeccanica, Custom Coach Builders in Vancouver, British Columbia.  Intermeccacina was started in 1959 by Henry's father Frank when he moved to Turin Italy with his wife Paula.  They produced parts for cars and created a formula junior race car, the Puch, or IMP, the Apollo and Italia automobiles among many other unique and innovative projects.  When the family moved to California in1975 they began making replica Porsche Speedsters and that tradition has continued to this day with Intermeccanica producing Speedsters, Roadsters and Kubelwagens for customers from around the world. Quality and a focus on providing their customers with exactly what they want, Henry and his team bring back the magic of old cars that are reliable and fun to drive. You can learn more about the Reisner family and their rich history in the book 
The Story of the Prancing Bull
.
SPONSORS
Want to sponsor the Cars Yeah podcast? Contact us today.
SUCCESS QUOTES 

"Listen to your client."
BUSINESS CHALLENGE 

Back in the 90s a majority of Henry's business was in Japan. When the Japanese economy collapsed, find out how Henry changed and survived a period that was about to destroy his business.
AH-HA MOMENT 

When the market shifted, and his Japanese customer base evaporated.  Henry pivoted to focus on a very different market, the United States. Listen to find out why it was so different.
FIRST SPECIAL AUTOMOBILE
A Lancia Fulva 1300 Coupe
BEST AUTOMOTIVE ADVICE
There is nothing you can't fix with a credit card and a cell phone.
FAVORITE RESOURCE

Petrolicious and Sports Car Market Magazine
FAVORITE BOOK
Forty Years of Design with Fiat – Dante Giacosa
PARTING ADVICE
If you have a dream, build a strong team around you, be it co-workers or family and go out and do what you want to do. Don't wait. Just start.
HOW TO FIND HENRY
You will find Henry at  www.intermeccanica.com or Flicker
HELPING CARS YEAH GROW
You can help promote Cars Yeah interviews. Please go to iTunes and post a comment. Every little bit helps and we will greatly appreciate your support.