Podcast: Play in new window | Download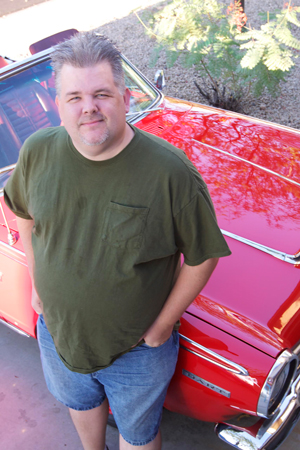 Jeff Koch has been the West Coast Editor for Hemmings Motor News for over ten years. He has been a professional automotive writer and photographer for more than 20 years and has written and taken photographs for magazines as divers as Hot Rod and Super Street. Jeff worked for the Johnny Lightning die cast car company, and he's an avid collector of die cast cars himself and has collected for over 20 years. Which ties in with today because it happens to be Christmas 2014! So pour yourself some eggnog, sit down next to the fireplace and we'll have some fun talking and playing with cars.
SHOW SPONSOR 
NOCO Genius Boost Jump Start  – Here.
Jeff almost didn't get in to the magazine industry but he learned a very valuable lesson in business and careers. Listen and find out what this powerful lesson was that still holds true today.
AH-HA MOMENT
Jeff's ah-ha moment came when he was a fact checker at a magazine that wanted an interview with  John DeLorean. Yes, that John DeLorean. After most of his colleagues told him it would be impossible to get an interview from a then retired Mr.DeLorean, Jeff simply picked up the phone book, found DeLorean's number in the book, and called him.  John answered and Jeff got the story.
FIRST SPECIAL CAR
A 1970 Mercury Cyclone GT
BEST AUTOMOTIVE ADVICE
Buy something that runs.
AUTOMOTIVE RESOURCES
Tales of Toy Cars – www.facebook.com/pages/Tales-of-Toy-Cars
Planet Die Cast – www.planetdiecast.com
FAVORITE BOOK
The World of Automobiles encyclopedia- You'll have to find them used.
PARTING ADVICE 
If there is something you love and it makes you happy and it doesn't hurt anybody else, stick with it.
HOW TO FIND JEFF
Hemmings Motor News – www.magazines.com/hemmings-motor-news
HELPING CARS YEAH GROW
You can help promote Cars Yeah interviews. Please go to iTunes and post a comment. Every little bit helps and we will greatly appreciate your support.