Podcast: Play in new window | Download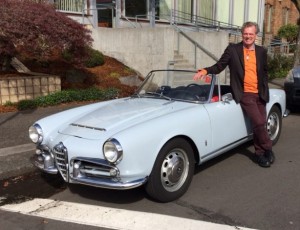 Keith Martin has been involved with the collector car hobby for more than thirty years. As a writer, publisher, television commentator, and die-hard enthusiast. He is the publisher of Sports Car Market Magazine, a publication he founded over 26 years ago. He launched a companion magazine American Car Collector four years ago. Keith's columns on collecting and reviews of exotic cars have appeared in the New York Times. Keith has been an emcee at Pebble Beach, the Meadow Brook Concours, Concorso Italiano, the Kirkland Concours, the La Jolla Concours d'Elegance, Keels and Wheels and many other events. He has hosted numerous television specials, and is the co-host of "What's My Car Worth" shown on the Velocity channel. You can usually find him out on the road on tours with his children.
SPONSORS
Want to sponsor the Cars Yeah podcast? Contact us today.
"Never take yourself too seriously." – Boris Goldovsky's Rule Number 6
After publishing two market letters and being overwhelmed by the work load Keith was ready to throw in the towel. Listen and learn how he pivoted and reinvented his business in to something new that became a new publication. That was 26 years ago and it's still going strong today.
AH-HA MOMENTS
Keith's success has come in a series of small successes. Listen to learn how this process has worked for him.
FIRST SPECIAL AUTOMOBILES
Bug Eye Sprite, 1958 MGA, and a 1963 Giulia Spyder Normale
BEST AUTOMOTIVE ADVICE 
Think before you act when it comes to doing things to your collector car.
RESOURCES
eBay – www.ebay.com
Bring a Trailer – www.bringatrailer.com
BOOK SUGGESTION
Beast– Jade Gurss
PARTING ADVICE 
Old cars are magnets that bring great people together.
HOW TO FIND KEITH
Email – Keith.martin@sportscarmarket.com
Sports Car Market Magazine –  www.sportscarmarket.com
American Car Collector Magazine – www.americancarcollector.com
What's My Car Worth TV – www.velocity.com/tv-shows/whats-my-car-worth
HELPING CARS YEAH GROW
You can help promote Cars Yeah interviews. Please go to iTunes and post a comment. Every little bit helps and we will greatly appreciate your support.