Podcast: Play in new window | Download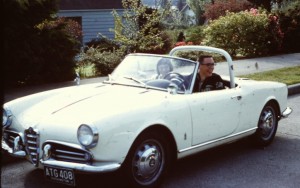 Martin Rudow, President of Rudow Specialty Publishing, publishes Vintage Drift magazine for SOVREN, the Pacific Northwest's largest and most active vintage racing club, along with other monthly and annual publications. His two regional sports car racing history books, Weekends of Glory and Long Straights and Hairpin Turns, have received national and international recognition.  A second edition of Long Straights has just been published as Vee-Lines, a reprint of the fascinating long-lost newsletters published about Formula Vee racing in the 1960s and early 70s.  Born in Seattle, Martin attended numerous regional sports car races in the latter half of the fifties and first half of the sixties when his father was active as a racer and club official. He has spent over forty years in the publishing industry and is also an internationally recognized track and field coach and official.
SPONSORS
Want to sponsor the Cars Yeah podcast? Contact us today.
"Always do your best ." – Coach Frank Ahern
Martin had a realistic chance of making the Olympic team. Then, a knee injury and subsequent surgery that all but assured he could no longer compete destroyed his dreams. Listen and find out how he pivoted and ended up at the Olympics anyway. And then, later in life, a second injury and the loss of one eye created new challenges.
AH-HA MOMENTS
Find out what happened when Martin shared some photos from racing in the past with some friends and how their suggestions and financial support turned that in to a publishing career.
FIRST SPECIAL AUTOMOBILE
1949 Packard
BEST AUTOMOTIVE ADVICE 
Clean it and polish it and it will run a hell of a lot better.
FAVORITE BOOKS
Kings of the Road – Ken Purdy
Walt Hansgen: His Life and the History of Post-War American Road Racing
 – Michael Argetsinger
Unbreakable – Laura Hillenbrand
FAVORITE RESOURCE
Bring A Trailer – wwwbringatrailer.com
AutoWeek Magazine – www.autoweek.com
PARTING ADVICE 
Follow your passion.
HOW TO FIND MARTIN
You can find Martin at www.vintagedrift.com
HELPING CARS YEAH GROW
You can help promote Cars Yeah interviews. Please go to iTunes and post a comment. Every little bit helps and we will greatly appreciate your support.