Podcast: Play in new window | Download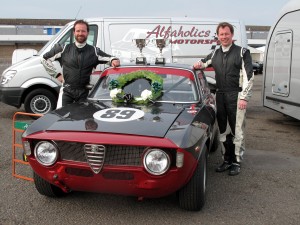 Max Banks joined Alfaholics in July 2004 after graduating from the law department at Bristol University.  He is the director of Sales & Product Development when he's not on the track racing Alfas. He's also responsible for the preparation and on going development of the Alfaholics 2.0 Sprint GT race car and he's in charge of building the Alfaholics FIA 1600 GT race car. Max is joined by his brother Andrew and his father Richard who started his passion for 105 series Alfas in 1975. Together they provide parts, advice, and service to Alfaholics around the world. They also buy, sell, build, restore, and maintain Alfa Romeos for their own collection and their client's enjoyment.
SHOW SPONSOR
NOCO Genius Boost Jump Start  – Here.
"Work hard and play hard." – Max's Father Richard Banks
After becoming a lawyer Max realized his true passion was in cars so he joined his father and brother in Alfaholics as the lead in product development.
AH-HA MOMENTS
Max developed a series of parts for their business that launched more and more products creating a new and viable segment for Alfaholics.
FIRST SPECIAL CAR
1967 Alfa Romeo 1300 GT that Max built in to a GTA-R track car
BEST AUTOMOTIVE ADVICE
Buy the cars you really want to own and enjoy driving and not what is the popular thing to be seen owning.
BOOK SUGGESTIONS
Gilles Villeneuve – Gerald Donaldson
Jochen Rindt: Uncrowned King – David Tremayne
PARTING ADVICE 
With the right careful planning and strategy you can follow your dreams whatever they are.
HOW TO FIND MAX
Alfaholics –  www.alfaholics.com
Alfaholics TV – www.youtube.com/user/AlfaholicsTV
Facebook – www.facebook.com/pages/Alfaholics/
HELPING CARS YEAH GROW
You can help promote Cars Yeah interviews. Please go to iTunes and post a comment. Every little bit helps and we will greatly appreciate your support.