Podcast: Play in new window | Download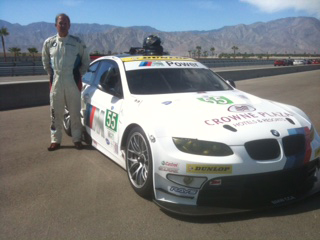 Mike Renner is a professional driver for BMW and is responsible for corporate sales and the BMW Performance Center in Greenville South Carolina. He began racing in 1983 and Mike has competed in a variety of classes including GT, showroom stock, improved touring and sports racers for the past 27 years. He started instructing at the BMW Performance Center just after it's opening in the fall of 1999 and his list of trainees includes new drivers, racers, F.B.I agents and Secret Service members who are assigned the task of presidential protection. Mike received international instructor certification in basic, advanced, advanced M vehicles, intensive, perfection, and racetrack. Included in Mike's duties as a driver for BMW is the opportunity to drive BMW racecars from their historic fleet.
SHOW SPONSOR 
NOCO Genius Boost Jump Start  – Here.
"Life is like driving. Focus on where you want to go and not on the obstacles along the way." 
Mike has taken the approach to life's challenges of not running away from them and loves the saying "Why not me" when it comes to possibilities.
AH-HA MOMENTS
After being hired to drive for BMW Mike realized just how fortunate he was to be paid to do something he really loved.
FIRST SPECIAL CAR
A MG Midget in British Racing Green
BEST AUTOMOTIVE ADVICE
Always do your research. Especially when purchasing a vehicle.
AUTOMOTIVE RESOURCE
BMW Performance Driving School – www.bmwusa.com/performancecenter
FAVORITE BOOK
Shunt: The Story of James Hunt – Tom Rubython
PARTING ADVICE 
If you are out on the highway pay attention and keep your eyes up!
HOW TO FIND MIKE
BMW Performance Driving School – www.bmwusa.com/performancecenter
HELPING CARS YEAH GROW
You can help promote Cars Yeah interviews. Please go to iTunes and post a comment. Every little bit helps and we will greatly appreciate your support.