Podcast: Play in new window | Download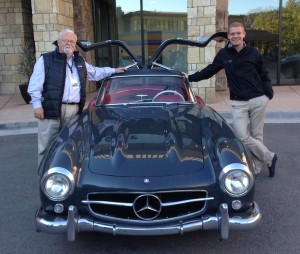 Paul Hageman is a Specialist at Gooding and Company. Gooding is a premier auctions house featuring the finest in collector, vintage, racing, and rare automobiles. They appear at premier automotive events throughout the country including the Scottsdale Auctions, the Amelia Island Concours, and the Pebble Beach Concours. Along with auctions they support private sales and collection estate planning. Paul worked at the Louwman Museum in the Hague, the Netherlands before joining Gooding and Company. Paul has been an automotive enthusiast since he was a young boy accompanying his father on tours, rallies, and CCCA Caravans, and he has attended auctions and concours events his entire life. He has also been a judge at many prestigious concours including Pebble Beach.
SPONSORS
Want to sponsor the Cars Yeah podcast? Contact us today.
"Life is short but it's wide." – Peter Hageman, Paul's Father
When in high school, Paul had an old Land Rover and decided to take it apart and restore the vehicle. Listen to find out how his senior project turned in to a four year restoration.
AH-HA MOMENTS
After a lifetime of being around cars with his father, Paul noticed while a teenager, that people would ask his opinion about cars. That's when his ah-ha moment hit. Listen and find out how he proceeded to insure that his avocation would become his vocation.
FIRST SPECIAL AUTOMOBILE
1971 and Rover IIa 88
BEST AUTOMOTIVE ADVICE 
Wait for the right car to come along
RESOURCE 
eBay – www.ebay.com
BOOKS 
MotorBinder – Roy Spencer
PARTING ADVICE 
The car hobby is fantastic because of the people. It's important as well for people to learn to respect originality in automobiles.
HOW TO FIND PAUL
Gooding and Company –  www.goodingco.com
HELPING CARS YEAH GROW
You can help promote Cars Yeah interviews. Please go to iTunes and post a comment. Every little bit helps and we will greatly appreciate your support.