Podcast: Play in new window | Download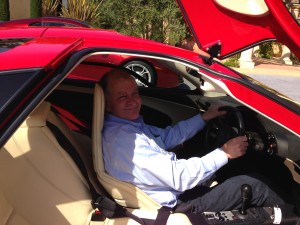 Richard Adatto is an expert on pre-World War II French aerodynamic cars.  A resident of Seattle, Washington, he has written and co-authored numerous books, including From Passion to Perfection; Curves of Steel; The Art of Bugatti: Mullin Automotive Museum; and French Curves: Delahaye – Delage – Talbot-Lago.  Delage Style and Design, and Curves of Steel.  I'm happy to say I have many of Richard's books in my library.  He has worked on Videos for the Discovery channel and History as a consultant and on air personality.  Richard has judged in national car shows both here in America as well as abroad in the United Kingdom, and France.  He has been a judge at the Pebble Beach Concours d'Elegance for more than 25 years and is on their selection committee.  In the United Kingdom he is a member of Salon Prive Concours selection committee.
SPONSORS
Want to sponsor the Cars Yeah podcast? Contact us today.
Only buy and drive cars you love.
Richard published a book for General Motors about the history of GM. He invested $100,000 and just when the book was ready to ship, GM went bankcrupt. Listen to find out what this hard-learned lesson taught Richard.
AH-HA MOMENTS
After purchasing his first Delahaye automobile and learning it wasn't built in the year he was told, he turned it in to a race car and with coaching from Phil Hill, he went vintage racing and discovered a passion he didn't know he had.
FIRST SPECIAL AUTOMOBILES
A Delahaye that he restored and ended up taking First In Class at Pebble Beach.
BEST AUTOMOTIVE ADVICE 
Just buy a car that you love, and that you can write a check for.
FAVORITE RESOURCES 
Watkins Glenn Library – www.watkinsglenlibrary.org
Detroit Public Library – www.detroit.lib.mi.us
The Ford Museum Library – www.thehenryford.org
The National Automobile Museum in Reno – www.automuseum.org
FAVORITE BOOKS
www.adattoauto.com/books – Books at Adatto Books
www.coachbuiltpress.com – Coachbuilt Press
PARTING ADVICE 
Experience as many different cars as you can.
HOW TO FIND RICHARD
You can find Richard at www.adattoauto.com
HELPING CARS YEAH GROW
You can help promote Cars Yeah interviews. Please go to iTunes and post a comment. Every little bit helps and we will greatly appreciate your support.