Podcast: Play in new window | Download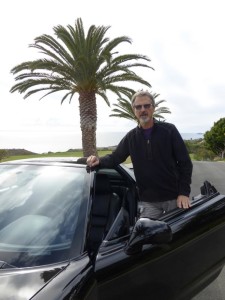 Richard Pietruska's Motor Art exhibits the dynamic fluid motion of the automobile while simplifying the basic design lines of some of the most exotic vehicles of the past and present. Richard studied automotive design at the Art Center College of Design in Pasadena where he received a degree in automotive design and he earned his masters of fine arts degree there as well. He has been a professor at the college for over 40 years. He is a member of the Automotive Fine Arts Society and has won the prestigious Peter Helck Award for 3 years in a row and he won numerous Athena Awards of Excellence at the Pebble Beach Concours d'Elegance. His amazing work can be seen in many automotive magazines, private collections, and museums around the world.
SHOW SPONSOR
NOCO Genius Boost Jump Start  – Here.
"To be successful you have to practice perfect."
"Good artists copy, great artists steal." – Pablo Picasso
After graduating from the Art Center of Design Richard had to decide if he was going to move to Detroit and follow a career in automotive design or stay on the west coast and do something different. After 40 years it is a question he still ponders to this day.
AH-HA MOMENT
After visiting the AFAS tent at the Pebble Beach Concours Richard decided to try and join this prestigious group of artists. In doing so it accelerated his career in fine art.
FIRST SPECIAL CAR
A 1963 Triumph TR4
BEST AUTOMOTIVE ADVICE
To follow your passion.
FAVORITE RESOURCES
Google – www.google.com
PARTING ADVICE 
Follow your passion.
HOW TO FIND RICHARD
RPMART-  www.rpmart.com
Art Center College of Design – www.artcenter.edu
HELPING CARS YEAH GROW
You can help promote Cars Yeah interviews. Please go to iTunes and post a comment. Every little bit helps and we will greatly appreciate your support.