Podcast: Play in new window | Download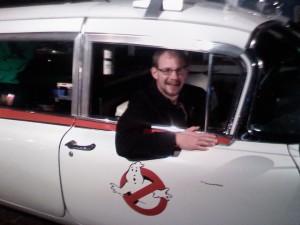 Ryan Turner has been focused on the VW industry for over 13 years. His obsession started with the purchase a '72 VW Beetle in high school and has since spiraled out of control and consumed all aspects his life. Three years ago, he made the big leap: He quit his job as a government contractor to start his own business, Krauthouse Motorsports. With no formal training and little investment capitol, he has since expanded his portfolio to include a VW-themed t-shirt sales site and has most recently acquired VWDiesel.net, an online community of enthusiast committed to all things Volkswagen diesel related. With the support of his wife, he is working to build and expand the site to include a blog, podcast, custom builds, and more to help fuel VW enthusiasts worldwide.
SHOW SPONSOR
NOCO Genius Boost Jump Start  – Here.
"Fail hard, fail fast, fail often and fail forward."
When Ryan decided to leave his day job and start his own automotive repair business he knew very little about running a business. Listen to how his Success Quote helped him move forward and achieve success.
AH-HA MOMENTS
After a large medical bill hit him, Ryan began buying, fixing, and selling cars. He quickly made enough to pay off his large medical expenses and realized, this was something he could make money at and something he really enjoyed.
FIRST SPECIAL CAR
A 1972 VW Beetle
BEST AUTOMOTIVE ADVICE
Don't go in to Volkswagens. (Ryan didn't pay any attention to this advice by the way)
GREAT RESOURCES
IMC Parts – www.imcparts.net
North Side Imports – www.northsideimports.com
BOOK SUGGESTIONS
Longaberger: An American Success Story – David H. Longaberger and Rovert L. Shook
Zora Arkus-Duntov – The Legend Behind the Corvette – Jerry Burton
PARTING ADVICE
Pick the right mate. Your choice in a spouse means make or break in anything you do in life.
HOW TO FIND RYAN
VW Diesel –  www.vwdiesel.net
Facebook – www.facebook.com/groups/VWDiesel
HELPING CARS YEAH GROW
You can help promote Cars Yeah interviews. Please go to iTunes and post a comment. Every little bit helps and we will greatly appreciate your support.