Podcast: Play in new window | Download


Listen To Scott by Clicking on the Red Arrow Above or Visit iTunes or Stitcher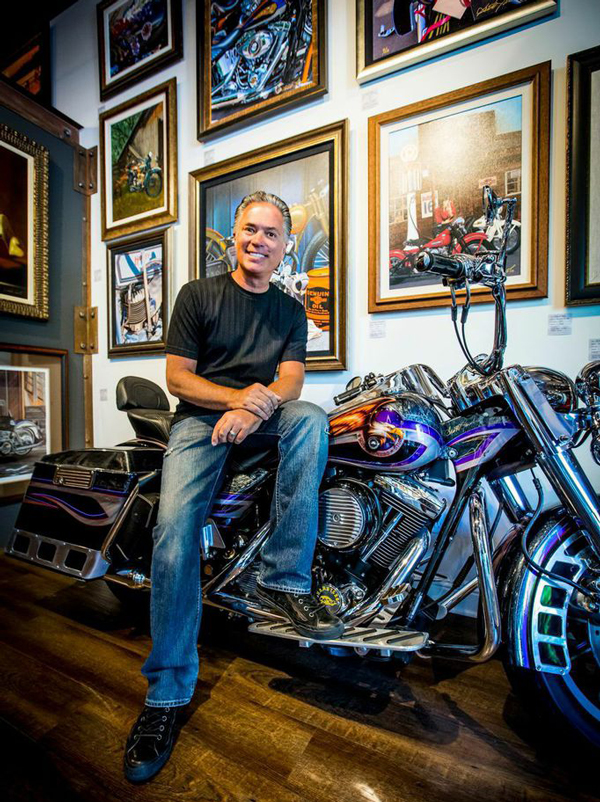 Scott Jacobs is an artist whose passion for Harley Davidson motorcycles is reflected in his paintings. Whether it's a Harley-Davidson motorcycle, a classic car, a fine bottle of wine or a delicate flower, Scott's attention to detail supersedes all expectation. Every detail is perfection, right down to the reflections within reflections. Scott was the first artist to be officially licensed by Harley Davidson. His work has been featured in VQ Magazine, American Iron, Art Business News, Easy Rider Magazine, Airbrush Action Magazine as well as a host of other publications. His work is commissioned and collected by celebrities, he's painted numerous portraits, and his work appears in galleries and collections around the world.
SHOW SPONSOR  
NOCO Genius Boost Jump Starter
"Don't get discourages just keep throwing your ideas against the wall and some of them will stick."
Scott shares a very personal story about his challenge with his parents. Please listen to this moving story.
AH-HA MOMENT
Moving from painting portraits to painting things that attracted more people and appealed to a wider audience.
FIRST SPECIAL CAR
A 1977 F10 Datsun
BEST AUTOMOTIVE ADVICE
Drive your cars. Don't let them sit.
AUTOMOTIVE RESOURCE
Scott Jacobs Studio – www.scottjacobsstudio.com
FAVORITE BOOKS 
The Art of Scott Jacobs – Scott Jacobs
The Motorcycle Art of Scott Jacobs – Cliff Stieglitz
PARTING ADVICE 
Be happy where you are and be happy with what you have.
HOW TO FIND SCOTT
Scott Jacobs Studio – www.scottjacobsstudio.com
Secret Millionaire – www.youtube.com/watch
Facebook – www.facebook.com/scottjacobsstudio93
HELPING CARS YEAH GROW
You can help promote Cars Yeah interviews. Please go to iTunes and post a comment. Every little bit helps and we will greatly appreciate your support.