Podcast: Play in new window | Download

Listen To Terry by Clicking on the Red Arrow Above or Visit iTunes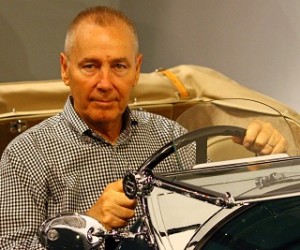 Terry Karges is the Executive Director of the Petersen Automotive Museum.
In his first year at the Petersen, Terry introduced vault tours, monthly cruise-ins, adult education programs, movie nights and specialty car events. He has helped to increase overall attendance, creating new events that engage the people of Los Angeles and the global automotive community.
Before joining the Petersen, Terry was a senior manager in automotive OEM, motorsports and theme park entertainment divisions, including Disneyland, Marine World and Sea World. His leadership background with automotive manufacturing firms includes Roush Performance, where he spent 17 years helping grow the company into the largest specialty high performance car brand in the world. There he also managed sales, advertising, new media, web development and vehicle packaging.  Prior to Roush, Terry enjoyed ownership of Karges Sport where he emphasized motorsports marketing and ran his own race team.
SPONSORS
Want to sponsor the Cars Yeah podcast? Contact us today.
SUCCESS QUOTE 

"How bad do you want it? What are you willing to do?" – Sean Connery in The Untouchables
"And if you didn't like today's news, go out and make some of your own." – Saturday Night Live
BUSINESS CHALLENGE 

After twelve years of working 24/7 Terry found himself burned out and in need of a career change. Listen and find  out how simply looking at the photos on his walls helped him find a new and exciting career.
AH-HA MOMENT 
Terry figured out what he was best at in the racing game and transformed those skills in to success. Listen to find out exactly how he generated a new career for himself.
FIRST SPECIAL AUTOMOBILE
A 1958 Porsche Speedster
BEST AUTOMOTIVE ADVICE
Bobby Unser – "Speed cost money. How fast do you want to go? This fast, this fast or this fast?"
FAVORITE RESOURCE
Car Stories from the Petersen Museum – www.carstories.com
FAVORITE BOOK
Supreme Allied Commanders of WWII – Charles River Editors
 PARTING ADVICE
Pursue what you love.
HOW TO FIND TERRY
You will find Terry at www.petersen.org
HELPING CARS YEAH GROW
You can help promote Cars Yeah interviews. Please go to iTunes and post a comment. Every little bit helps and we will greatly appreciate your support.